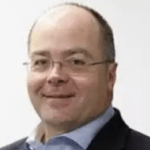 Thomas Dee, previous Chief Finance Officer of blockbuster gene therapy company AveXis, has joined the ENDSULIN board, bringing invaluable expertise to accelerate our mission: to get this therapy to patients as soon as we can. 
As the financial lead for one of only 2 successful commercial gene therapy companies to date, Dee is one of only a small handful of industry pioneers who have led this type of venture all the way through the process to market. 
Dee also brings 25+ years of global pharma and biotech experience in executive roles, including additional VP leadership at a multinational medical device and health care company.